April, the season of Autumn, Easter and most importantly, my birthday! I arbitrarily decided that April called for some Fantasy Reads, so here are my Top Five Fantasy Reads (in no particular order!) to put you in the mood for a very magical season~
One. The Cruel Prince by Holly Black
I. The Cruel Prince II. The Wicked King III. The Queen of Nothing
If I cannot be better than them, I will become so much worse.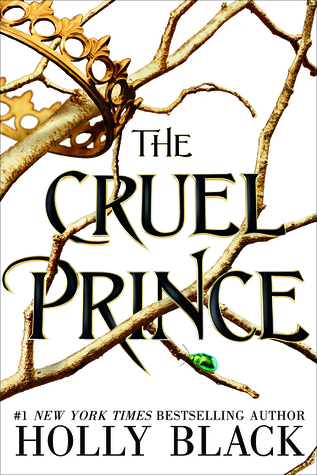 Jude was seven when her parents were murdered and she and her two sisters were stolen away to live in the treacherous High Court of Faerie. Ten years later, Jude wants nothing more than to belong there, despite her mortality. But many of the fey despise humans. Especially Prince Cardan, the youngest and wickedest son of the High King.
As Jude becomes more deeply embroiled in palace intrigues and deceptions, she discovers her own capacity for trickery and bloodshed. But as betrayal threatens to drown the Courts of Faerie in violence, Jude will need to risk her life in a dangerous alliance to save her sisters, and Faerie itself.
I said in a review when I first read it, that The Cruel Prince felt like a Shirley Barber piece brought to life and given fangs and I stand by it. There's an undeniable sense of whimsy and sparkle amongst the violence. The sequel, The Wicked King was released back in January and is a worthy successor!
Two. A Matter of Magic by Patricia C. Wrede
I. Mairelon the Magician II. The Magician's Ward
Kim was more than a little inclined to snarl at him, but in the past few days she had learned that snarling at Mairelon did little good. He simply smiled and corrected her grammar.
When a stranger offers her a small fortune to break into a travelling magician's wagon, Kim doesn't hesitate. Having grown up a waif in the dirty streets of London, Kim isn't above a bit of breaking-and-entering. A hard life and lean times have schooled her in one lesson: steal from them before they steal from you. But when the magician catches her in the act, Kim thinks she's done for. Until he suggests she become his apprentice; then the real trouble begins.
A bit of banter, magic in Latin and a snarky cross-dressing thief of a heroine – what's not to love? This book was my gateway drug to Regency fantasy series and hits that sweet spot between silly and serious. This book is a must read if for no other reason than to enjoy our protagonist being the only sane person in any given room.

Three. Thief Errant by Elizabeth C. Bunce
I. Star Crossed II. Liar's Moon III. ????
For a moment I was distracted. Books always did that to me… I liked the creamy pages, the smell of ink, all the secrets locked inside.
Digger thrives as a spy and sneak-thief among the feuding religious factions of Gerse, dodging the Greenmen who have banned all magic. But when a routine job goes horribly wrong and her partner and lover Tegen is killed, she has to get out of the city, fast, and hides herself in a merry group of nobles to do so.
Accepted as a lady's maid to shy young Merista Nemair, Digger finds new peace and friendship at the Nemair stronghold–as well as plenty of jewels for the taking. But after the devious Lord Daul catches her in the act of thievery, he blackmails her into becoming his personal spy in the castle, and Digger soon realizes that her noble hosts aren't as apolitical as she thought… that indeed, she may be at the heart of a magical rebellion.
The Thief Errant series is one that is severely underrated in YA circles, and I feel it does a lot of things better than some of the Big Series (*Cough* Throne of Glass *Cough*). Bunce has crafted an intricate world of magic, politics, thieves, and moons and it is such a refreshing take on a thief protagonist. If Romance is your thing, you may find book 1 a bit dry, but rest assured that Digger's romance in book 2 will have you covered in spades (pun intended).
Four. Six of Crows
I. Six of Crows II. Crooked Kingdom
Greed may do your bidding, but death serves no man.
Ketterdam: a bustling hub of international trade where anything can be had for the right price—and no one knows that better than criminal prodigy Kaz Brekker. Kaz is offered a chance at a deadly heist that could make him rich beyond his wildest dreams. But he can't pull it off alone – A convict with a thirst for revenge. A sharpshooter who can't walk away from a wager. A runaway with a privileged past. A spy known as the Wraith. A Heartrender using her magic to survive the slums. A thief with a gift for unlikely escapes. Kaz's crew is the only thing that might stand between the world and destruction—if they don't kill each other first.
Could this list be complete without a Grishaverse entry? While I've decided that Six of Crow's sequel, Crooked Kingdom will be my last venture into Bardugo's world, it certainly went out with a bang (pun…unfortunate). Six of Crows is a great entry point into a fascinating world of magic and beasts, so don't let my incessant use of the "Grishaverse" put you off! Everything you need to know about the book is on the pages. The Leverage formula of found-crime-family is at it's best in Ketterdam and I can guarantee you will fall in love/want to adopt at least one of Six of Crow's ensemble cast.
Five. Howl's Moving Castle by Catherine Wynne Jones
Interesting things did seem to happen, but always to somebody else.
Sophie has the great misfortune of being the eldest of three daughters, destined to fail miserably should she ever leave home to seek her fate. But when she unwittingly attracts the ire of the Witch of the Waste, Sophie finds herself under a horrid spell that transforms her into an old lady. Her only chance at breaking it lies in the ever-moving castle in the hills: the Wizard Howl's castle. To untangle the enchantment, Sophie must handle the heartless Howl, strike a bargain with a fire demon, and meet the Witch of the Waste head-on. Along the way, she discovers that there's far more to Howl—and herself—than first meets the eye.
Everyone's heard of Howl's Moving Castle, obviously, but I'm always surprised by how many people don't know it started out as a book. There's something so comforting about an old-school bonkers fantasy. If you loved the movie, prepare to love this book for entirely different reasons. If you've seen the film, you'll know that Jones' story is populated with amazingly colourful characters. The book gives a great lot of depth to the cast, and answers questions you didn't even know you had. Sometimes (well, most of the time) the book is better than the movie but sometimes, it's just as good. Thankfully this is one of those cases.
Have a great April, and keep an eye out for a new review of [REDACTED] being posted soon. Happy reading!
---
*And by "arbitrarily" chosen, I mean I saw that the fantasy shelf at work was chokers and that to shelve any more on it I would need a Fantasy display – stat!