I am a regular subscriber to the FairyLoot box – a Young Adult Fantasy themed surprise box that arrives monthly and cost £26 a month. I am yet to be disappointed by any of these boxes, and I thought I'd share this month's goodies!
The theme for April's box was Dark Magic and promised to include exclusive items inspired by Harry Potter, A Darker Shade of Magic, Shadow and Bone, Nevernight and Children of Blood. The April box also included a signed and limited edition print of Maya Motayne's Nocturna, which I recently reviewed on this blog.
Let's see what was included in this month's box!
Where to start? How about with this Children of Blood and Bone holographic notebook? So shiny!!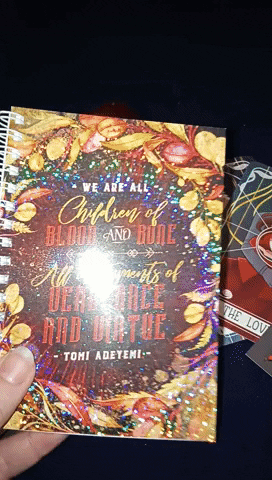 The quote on the front and back reads:
We are all Children of Blood and Bone, all instruments of vengeance and virtue – Tomi Adyemi
I am yet to read Children of Blood and Bone but I can appreciate a good quote and some fancy lettering by Stella Bookish Art.
Next up we have our tarot Six of Crows inspired Tarot cards – The Tower and The Lovers by @artbyeemmilinne – a flyer for the upcoming YA fantasy We Set the Dark on Fire, and our April themed Dark Magic Bookmark. The seemingly misshapen red jelly blob at the top of the photo is possibly one of my favourite items from this month's haul – a Philosopher's stone soap! The soap is made by Pretty Suds and smells pretty suddin' amazing!!
It is a truth universally acknowledged that a bookworm loves both tea and cats, so the inclusion of a kitty shaped tea defuser is basically the best thing ever. This flavourful feline is modeled on Mister Kindley from Jay Kristoff's Nevernight series. With his assistance, I was finally able to try my loose tea from a previous box. I recently finished reading (and very much enjoyed) A Curse so Dark and Lonely and I am so pleased to now have an Emberfall pin to add to my already-clicking-with-so-many-pins denim jacket.
Next up is something I'm going to be using constantly, a Darkling tote bag! On one side we have some lovely typography reading:
The Problem with wanting is that it makes you weak
and the reverse showing the smug mug of none other than the Darkling himself!
Ooh and we're getting into the big-ticket items. It is no secret that I am a messy person, so I rely on book sleeves to keep my beautiful books beautiful. I just about screamed when I saw this incredible Darker Shade of Magic inspired book sleeve! Everything from the colours to the shape and size to the INCREDIBLE artwork are perfect!! This is a bigger sleeve than the last one I got from a FairyLoot box, which is great because I didn't feel that the last one I had did enough to protect the top of the books.
Magia Para Todos.

Magic for all.
And now for the pièce de résistance (fancy speak for the BEST FRIGGIN' THING), a limited edition, blue, signed, blue, sprayed edge, blue, copy of Maya Motayne's Nocturna (Did I mention that it was blue?). I received an ARC of this book sometime last year and I absolutely loved it! At the time of reading, it did not have a finalized cover, but I had seen some red pictures floating around. I was so delighted that FairyLoot were able to print such a pretty copy! And if you've read the book, you'll know it is lore friendly too – here's what the FairyScoop has to say about it:
Exclusive FairyLoot Edition of Nocturna – In this book magic is represented by a specific colour depending on the person. Blue is the colour of one of the main character's magic.
And that's everything! In all the boxes I've received, FairyLoot have yet to disappoint! There's always a colourful collection of unique items that really fit with the theme and should appeal to any YA fantasy lover. While the cost of getting them posted to Australia is not insignificant (it is, in fact, quite significant indeed!), there's something I love about getting a specially tailored box of goodies to my door at the end of every month!
Did you get a FairyLoot box or something similar – something better? What do you think about it?
The next box should arrive at the end of May – themed Unlikely Romances – and I'll do a write up of that when it arrives too.
Happy reading!!