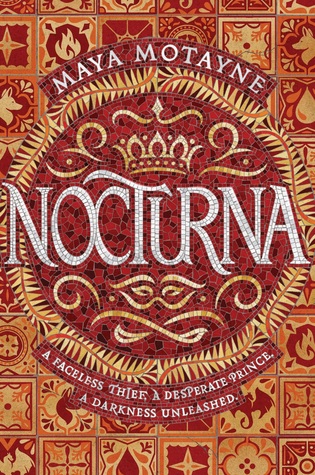 A Forgery of Magic #1
By Maya Motayno
4.5 out of 5 stars
"Given enough time you can learn to survive most anything. You learn to breathe when your lungs are too scared to move and you learn to calm before your heart bursts. You learn. Or you die."
Review copy provided by the publisher through Edelweiss. 
I originally had this review scheduled to post closer to the release date but seeing as my beautiful blue (!!!!) Fairyloot edition arrived today, I thought I'd get this posted. I'll hopefully do a post about the April box soon!!
After his brother's assassination, Alfie fled far from his kingdom and his responsibilities in search of answers. What is the point of having magic colouring your world if you can't use it to save someone you love? Now Crown Prince Alfehr has returned to Castallan, consumed by his grief and willing to do just about anything to bring back his brother. Finn just needs to stay one step ahead of her past. She's a wanted woman. Or women, actually. Her propio – her intrinsic expression of magic – allows her to change her face as easily as she would a dress. Hopping from city to city, Finn knows that as long as she stays smart, she can keep her freedom. When dire circumstances throw Finn in Alfie's path, the two have to work together to combat an ancient darkness that threatened to destroy their world.
This book was such a delight! I love a good story about magic and thieves and Nocturna is a great one. I mentioned in my early review that it was everything I've been looking for in a fantasy novel recently. It delivered just about everything – an exciting setting, thoughtfully crafted lore and really beautiful relationships. Oh, and funny characters. I can't go past a funny character. The small unexpected moments of humour throughout Nocturna really gave the book a lot of character.
Speaking of characters, I love Finn. She's all sharp edges, snark and blunt replies, but she has a depth of character that I really enjoyed. While I didn't always agree with her actions, I really enjoyed her perspective on not just Motayno's world, but also her own morality and identity. Alfie complements Finn's sharpness with a softness of his own. He is kind, considerate and full of so much love – for his family, his friends, his kingdom, and his face changing companion. Alfie does struggle with his darker side, but it was refreshing for him to be so good (dare I say, neutral good?). The way these two are together – my gosh! In planning a heist, in battle or a friendly night under the stars, it was good-natured bickering and heartfelt confessions and not much in-between and I loved it. It was all very intense, but I feel like Alfie and Finn complement each other well, and for this, I'm willing to forgive the very quick progression of their acquaintance.
When I started Nocturna,  I had some idea that it was some kind of a cross between Spy in the Silver Palace (which I loved!) Midnight Thief (which… I didn't!). The first chapter added a fun dash of Avatar: The Last Airbender in there too, which can only be a good thing. I've seen magic done a lot of different ways in YA fiction, and Nocturna does touch on a lot of the common tropes in the genre, but Motayno has managed to make it feel like something different. I look forward to seeing how she develops this.
Magia Para Todos.

Magic for all.
I'll be the first to admit that I don't know much about South America in general, let alone The Dominican Republic. I found myself having to constantly adjust my mental image of Castallan and its inhabitants when things are explained in detail. Latin-inspired fantasy is sadly not something I have encountered before, and I really appreciated the change in perspective of traditional fantasy tropes and settings. Particularly the discussions around the idea of reclaiming legacy after colonisation – an idea that is explored extensively and sensitively throughout.
So if I loved it so much, why only 4.5? About a third of the way through the book, there is a throwdown with the Big Baddie that was so gross and so graphic I actually had to stop reading for a bit. I'm usually fine with a bit of gore and blood but this was one of the nastiest scenes I've ever read. It was really well written, so well written in fact that I had to stop reading and escape from my tram before I puked on any of my fellow commuters. I don't know what it was about that one scene – I've read and seen far more gore than that – but something about it had my brain nope-ing out of there. This is obviously a very personal thing and anyone else may not have batted an eyelash, but it did affect my enjoyment of the story.
Oh boy. I've written a lot. I hope some of it is coherent. Nocturna is a YA fantasy for anyone who is sick of YA fantasy. It is such a great addition to any fantasy shelf – packed full of thrills and twists and laughter throughout. I've already got a few of my students hyped for it's release in 2019 and I can't wait to get my hands on my own copy!